What is restaurant management?
If you've just opened a new restaurant, or you're thinking about opening one, there are some obvious things you'll need to succeed.
A great location, and a clean, inviting atmosphere will help. Making and serving good food, every shift, every day is a must. You'll also need a loyal customer base, and a way to attract new people through your doors.
But if you're going to make a profit, there are some essential business tools you'll need to use to make sure you're not wasting time and money in your daily operations. These tools are part of good restaurant management: the way you oversee, organize, control and run all aspects of your restaurant business.
Anyone can learn how to use restaurant management tools, whether you are a new or hopeful restaurant owner, or an experienced industry veteran looking to increase your profit margins. It's not magic, but a simple and diligent approach combining good planning, careful record-keeping and inventory tracking, and effective management practices.
This 5-minute read will introduce you to the basics of restaurant management, and the foundations of saving and making money in the hospitality industry.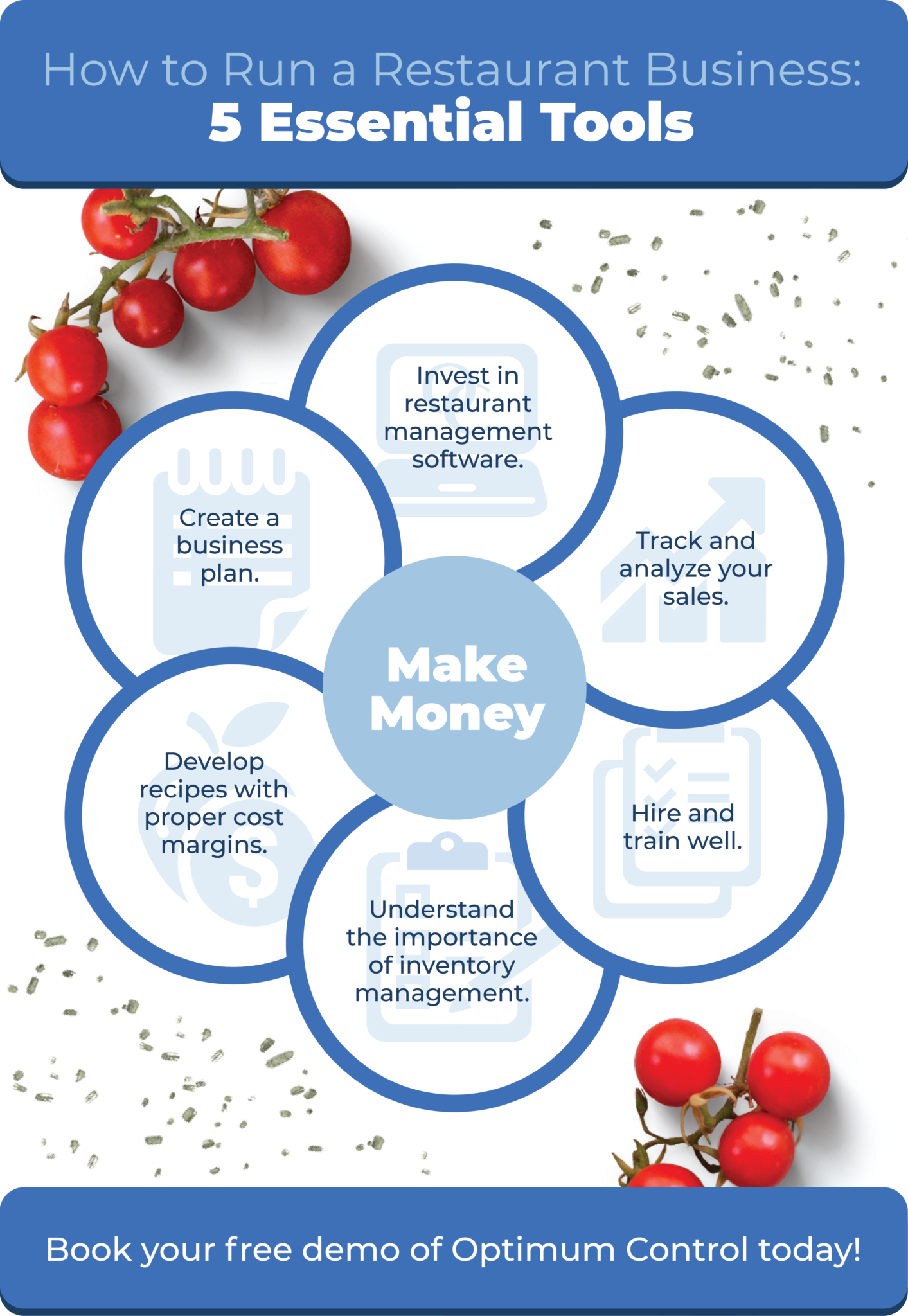 1. Create a business plan
Business plans come in all shapes and sizes: they can be as simple or as detailed as you want or need them to be. But good business plans have a few key things in common: they define what your business idea is, and how you're going to make money.
Spending some time putting these basics into words will help you focus your restaurant management efforts in the right places, and give you a clear foundation to return to on days when you start to lose sight of the big picture. Whether you are starting a new restaurant or catering business, or looking to expand your existing business, a plan is the right place to start.
Start by asking yourself what niche your restaurant will fill. What kinds of food or restaurant experience is your city or neighbourhood ready for? What kind of restaurant and menu can you deliver really well? New and good ideas are important, but making sure you've done your market analysis homework to confirm there's a customer base ready for those ideas is just as essential.
Your business plan will also cover the ways you want to market and advertise your restaurant. Who are your ideal customers, how will you reach them, and what will you tell them about yourself and your restaurant? Consider digital and traditional means of advertising, and if you can handle some of your marketing in-house, or need help from an outside firm. Think about the kinds of promotions and specials you'll use to get people in the door and to expand your sales.
Setting clear goals and objectives for each month, year, or 5-year period, is another key aspect of business planning. Know where you are starting, and where you want to go – with small, measurable steps charted out to get you there. Starting a restaurant business can be overwhelming – there are lots of moving parts. Writing down your vision for your restaurant, and how you can achieve it day-by-day, month-by-month, will set a strong foundation for success.
Remember, a good business plan covers all aspects of your business: financial, human and material. Don't leave anything out and get help developing your plan if you need it, refer to your plan on a regular basis and check your progress against your goals and objectives to keep your management efforts on task.
2. Develop recipes with proper cost margins
Many restaurants fail because they did not take the time for proper menu engineering. You can have the best food, and the best service, but if your pricing does not reflect proper cost and profit margins, you will be closing your doors sooner rather than later.
Develop meaningful recipes that taste great to you and as many people as you can offer a sample to. Don't let your feelings be hurt with feedback and critique, but rather adjust and learn from every person. Remember, other people will be buying your food and paying your bills, not your ego.
Plating and presentation is also important to every customer. Make sure the meal they will be consuming not only tastes great but looks appetizing too. From mom-and-pop diners to formal steakhouses, every plate should be presented as a reflection of the quality of your restaurant. In some cases, simple things can make all the difference from the way you cut the fruit to the construct of the meal itself.
Just repeat to yourself: costing, costing, costing. How much does it cost to prepare each menu item you dream up? Adjust portions and pricing to create a recipe that has great value for the money you're spending to make it. Your customers will also be value conscious, so don't assume they will pay more for your creations just to offset poor recipe costing — that approach to restaurant management is a recipe for disaster.
3. Understand the importance of restaurant inventory management
How you manage your food and beverage inventory is just as important as the inventory itself. Proper inventory management can save you thousands of dollars every year, money that is easily wasted if you're not using inventory management best practices.
Start by counting everything: open up each box that arrives to your kitchen or bar and count and record what's inside. Track what you ordered, what you paid for it, and the condition your inventory arrived in, so you can improve your future orders and make returns immediately.
Next, organize your inventory to save you and your staff valuable time. Label each item, implement a FIFO (first-in, first-out) practice and establish your Inventory Turnover Ratio and PAR levels.
Then make sure you and your staff are taking every step to curtail waste: every ounce of inventory that gets thrown out equals money wasted too. Cutting down on waste is a key way to make the most profit off of your inventory. Move your garbage cans away from the counters to make throwing things out an effort your staff will think twice about. Don't overprep or overcook. Watch your serving and portion sizes, and understand where your storage losses might be happening.
Take a moment in every work week to focus on and improve your inventory management. It is worth the time and effort, and can save you thousands of dollars every year.
3. Hire and train well
Training is a true measure of the quality of your restaurant. If you hire good staff and train them well, it will be reflected in how well your daily operations run and how satisfied your customers are with every visit.
Building a good team, and ensuring everyone is on the same page with your business plan, is a time-consuming part of restaurant management – but one that pays off in the long-run.
Start by conducting effective, meaningful interviews. Go beyond asking candidates about their weaknesses and strengths, and try to get to know what they value and how they will contribute. What do they like about making or eating food? What does a team look like to them? What is a great experience they've had as a customer — and a bad one — and how they handled it? How have they recently helped someone, or gone above and beyond expectations? Check their references, and establish a trial period to ensure each person is a good fit. Accept that firing staff is also your job when they aren't doing theirs.
Teach all of your staff about portion control and the true cost of each handful, each cup, each ounce of product in their hand. Go into your kitchen, talk to your line cooks, and watch how they prep each recipe. Tell them what each ingredient costs, so they know how much money is going onto the floor or into the garbage during prep. Get them to show you what a portion on each menu item looks like. Make sure they are following inventory best practices to assure quality, proper yield and waste reduction. Do spot checks on portion weights and even finished products: this can help staff develop a real appreciation for proper portion controls.
Establish a strong team with training and regular staff meetings. Offer your staff incentives and reward good work. Be a role model for relationship building and mentorship. Make your expectations clear and simple to follow.
Document, document, document; everything from meetings with staff to lates and any incidents should be entered in a daily log. Cover all the bases to make sure that you have and retain good staff while also ensuring you are protected legally when staff quit or need to be let go.
Your staff are a key part of your operations, and will work hard when they know you value their contributions. Your menu and marketing will draw people in, but the quality of your food and customer service will keep them coming back and bringing their friends.
4. Track and analyze your sales
Your restaurant profits will be driven by your menu prices, costs, sales, and budget.
Keeping on top of all these financial factors is a key part of restaurant management, and ensures that your customers and ratings are helping drive your business.
Follow restaurant trends and business best practices. Track all of your numbers, and be accurate: "about" is never as helpful as "exact". Know your costs, from labour to utilities to inventory. Keep track of your sales and optimal profit margins so you can set the right menu prices and make money with effective recipe costing.
Take a close look at your purchasing and ordering: take note of where your costs are increasing, where you can switch ingredients or suppliers, and where you are over- or under-ordering.
Use sales mix reporting to analyze your numbers and spot any problems and opportunities. Accurate restaurant reporting helps you be proactive, not reactive, to the changes in your restaurant and small ways you can save money each day. This also allows you to analyse high profit items and bestsellers to make slight adjustments to prices that can significantly increase profit.
5. Invest in restaurant management software
Don't worry if the basic concepts of restaurant management are new to you: there are tools that can streamline your workflow and improve your bottom line.
Restaurant management software, like Optimum Control, is a complete software solution for all your restaurant inventory and management needs. Designed to be easy-to-use and intuitive, these digital tools can be used effectively by experienced restaurateurs and novice managers alike. Even if you have never priced a recipe, tracked costs, or counted your inventory, the right software and dedicated customer support will have you saving money in no time.
Today's digital solutions can do wonders for boosting the efficiency of any business – investing in restaurant management software can streamline your processes, improve communication between staff and multiple units, and better organize your team for maximum efficiency and bigger profits.
For example, Optimum Control will help you calculate recipe costs, track all of your inventory counts and values, allow mobile counting and scanning for fast entry, automate your ordering and purchasing processes, and produce powerful reports so you can be on top of all your pricing, sales, variances and profits.
At the end of the day, good restaurant management is about putting your time and effort into the right places in your operations, ensuring you get the most value out of every dollar you spend on your business.
With the essential tools under your management belt, you'll be on your way to putting money back into your bottom line, and watching your profits increase. Effective restaurant management can be learned, and the right software can help you get there faster, with better results.
Take control of your inventory today with Optimum Control! Book a demo or browse all of the features and benefits we offer.