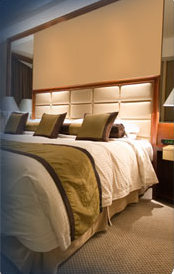 Optimum Control Premier is primarily designed to enable operators with multiple profit centers the ability to control the complex task of tracking and maintaining multiple inventories.
Designed for your multi user network environment, each manager can operate the software and be in control of their own revenue center, in turn they can requisition stock from other areas, consolidate ordering between all revenue centers and manage costs specifically AND from a consolidated approach.
Best Solutions:
OC Premier, OC Labour Pro, OC Sales Export Utility, Invoice Import Module, OC Mobile
Order by phone: 1-888-798-5555
Key Features
• Food and beverage costing for each revenue center.
• Stock items and recipes can be copied from one store to another with the click of a button, or automatic setup with a stock transfer.
• Ideal versus actual usages per revenue center.
• Theoretical usage per revenue center.
Maintain Central Stock and Purchasing
• Request stock from main store room or any specified inventory (revenue) center, manager receives notification to approve requisitions.
• Consolidate ordering – stores can request required stock for a time period and main stock area manager can consolidate the requisitions and order from suppliers. Stock transfers can be fulfilled with the click of a button.
• Consolidate purchasing with price changes being updated to each revenue area.
• Detailed transfer fulfillment with the ability to pick and choose orders filled to amounts ordered and automatically create back orders.
Event Management - Catering and Banquets
Banquet managers will save hours on planning events with the easy to use Optimum Control Catering wizard. Plan your menus and know exact margins in minutes not hours.
• Enter information on the event including room or location, event times and even duration.
• Identify menu and indicate number of people coming to the event.
• Costs and quote price to customer will be displayed using either retail pricing, cost percentage or defined per person price. Know your margins on the event instantly.
• Once complete all stock can be removed from inventory and reports can be run to determine stock usage based on catering events or buffets, know exactly how your stock is being affected.
Consolidated Reporting
• Run reports for individual areas or consolidate to see the big picture.
• Print your purchase reports for the accounting department. No coding of invoices or double entry.
• Invoices can be exported to many popular accounting packages.
Want to start using Optimum Control today?
Free Trial