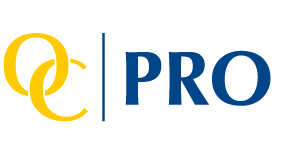 Optimum Control Professional is our most popular software. With over
70
Reports Available it is perfect for anyone who wants full functionality complete with Recipe Costing, Inventory Control, Ordering, Purchasing, Catering and Event Management and Nutritional Analysis.
Starting at: $99/mth
Ideal for:
Fine and Casual Dining Restaurants, QSR's, Bars & Lounges, Multi Chain Restaurants
Compatible with:
Windows PC
Order by phone:
1-888-798-5555
---
Trial Version
Buy Now
---
---
OC Pro Features
Precise Menu Costing
» Optimize profitability by pricing your menu based on selling price, cost percentage or gross profit
» Develop new menu products in minutes, not hours
Inventory Control
» Determine the exact cost per unit on all your inventory items
» Count inventory quickly with detailed count sheets sorted by location or even customized to match your storage areas
Simplified Ordering
» Create orders in minutes with the easy to use drag and drop feature
» Create forecast orders based on usage per day, by sales volume or preset par levels
Detailed Purchasing
» Identify price increases and add additional pack sizes all from one window
» Convert orders to invoices in seconds
Event Management
» Plan and cost out all your banquet, buffet and catering events
» Calculate the price per person based on selling price, cover price or even cost percentage
Comprehensive Reporting
» Over 70 detailed reports including comparison of actual vs theoretical usage.
» Analyze the profitability and popularity of all items on your menu
Systems Integration
» Import information from virtually all Point-of-Sale (POS) systems and even export to popular accounting systems
Call us today at 1-888-798-5555 to order OC Pro and TAKE CONTROL with OPTIMUM CONTROL.
Buy Now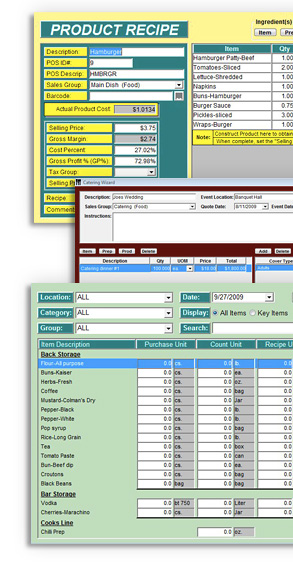 With Optimum Control you can track your purchasing, credits, interface with QuickBooks, and much much more. Now when we have an issue with an item you can focus your attention to that item and stop saying "watch your food costs." If you don't have Optimum Control you should, it is not difficult to set up….and you will be surprised with what you learn when you establish your Menu pricing and see your actual costs!!"
• Retail Sales Module/ Commissary
I don't have a lot of computer experience, will I still be able to use the program?
Yes, the program has been designed to be easy-to-use. If you know the food service industry, you know Optimum Control.
Is Optimum Control a POS or Touch Screen System?
No. First and foremost Optimum Control is a "Food Costing Program", that is designed to be used as a "back office" restaurant management tool by helping you cost out your recipes and track inventory. It will work in conjunction with your POS system.
Do I have to manually enter all my sales information?
Optimum Control provides two options. You can enter information manually by copying your till tape information ("z tape"), using this method Optimum Control can list items in the same order as your till tape. The second option is to import information through your POS (or polling software) directly into the program. An additional feature with this method is our
OC Sales Export Utility
 which will automatically import your sales from your
POS system
on a daily basis.
Is Optimum Control an Accounting System or Program?
Optimum Control is not a FULL accounting system, rather a "back end" restaurant management program. It will interface with popular programs such as MYOB or QuickBooks. Sales information can be exported in other formats such as: MS Excel, dBase, 2/3, Lotus, MS Works, DIF, Text, Text With Headers, SQL, HTML and more. This will save you valuable time since Optimum Control "codes" your invoices only once allocating them to the appropriate accounts!
Does the program tell me Theoretical vs. Actual usage?
Absolutely. That is the end result of using Optimum Control. It will tell you exactly what stock you SHOULD have used, and what you ACTUALLY used.
When I enter my purchases, how do I handle price changes? Are all my recipes updated?
When you enter your purchases (invoices) you can indicate a new price and upon saving the information, Optimum Control gives you the choice to update all of your recipes with the new price. You can indicate if this is a permanent price change, or if it is a "one time" change - you choose.
Can I find out if my food costs are going up or down?
In the reports window, you can find out the last price paid (and percentage of change) or find out about all the price changes for a particular item and see them graphically. Find out yearly pricing trends, and how a price change affects all products containing an item.
Can I enter my own units of measure?
Yes. While Optimum Control offers a wide array of pre-set units of measure you may add as many as you like quickly and easily.
How long does it take to get "up and running" for an establishment with approximately 400 food items?
On the average you would be set up within 2 or 3 days. It is essential that you have a good idea of your recipes, and their yields to make the process run quickly.
What kind of support do I get with my purchase? What about updates?
Optimum Control comes with your first year of technical support and set up support free. This service is available Monday through Friday between 9am and 5pm CST Outside of these hours, there is a fee for technical support. Updates (within your version) are included so that you are always up-to-date with the latest features, these are avaliable when you log into Optimum Control (internet connection required).
Do you have a downloadable demo/trial version of your software?
Yes, we offer you both and something better! Optimum Control is backed by our 30-day money-back guarantee. So order today and if you are not 100% satisfied with our software, simply return it for a full refund of the purchase price. To download a free trial please click
here
.
With your purchase of Optimum Control you will receive 1 year of technical support free.

After the first year you can either upgrade to the next version of Optimum Control that is available or you can remain on the same version but your technical support contract will expiry.
*Prices are subject to change without notice*