Ideal for customers such as hotels, golf courses and resorts. OC Premier includes all the functionality of OC PRO with the addition of multiple profit centers, stock requisitions, consolidated ordering, stock transfers and usages per area.
Price: $3600.00
Ideal for:
Hotels, Golf Courses, Resorts, Casinos
Compatible with:
Windows PC
Order by phone:
1-888-798-5555
---
Trial Version
Buy Now
---
---
OC Premier Features
Multiple Cost Area Management
» Detail purchases, costs and inventories for every area in your facility.
» Set up a main store room area and requisition and transfer stock to each area.
Requisitions and Transfers
» Stores can requisition stock from main stores or any other area within the operation.
» Require approval of the sending store, a good double check for stock being transferred.
Consolidated Ordering
» All requisitions can be consolidated by main stores to create an order for your suppliers.
» Once orders are received requisitions can be made transfers with the click of a button.
Detailed Reporting
In addition to the power of Optimum Control Professional's reports, Optimum Control Premier contains special reports that allow you to consolidate information for your whole operation.
» Run your Usage summary, sales mix and inventory tracking by location, know how each area of the facility is performing.
Enhanced Security
» Assign access levels for every user so that they only have access to their own areas.
PLUS...
Precise Menu Costing
» Optimize profitability by pricing your menu based on selling price, cost percentage or gross profit
» Develop new menu products in minutes, not hours
Inventory Control
» Determine the exact cost per unit on all your inventory items
» Count inventory quickly with detailed count sheets sorted by location or even customized to match your storage areas
Simplified Ordering
» Create orders in minutes with the easy to use drag and drop feature
» Create forecasted orders based on usage per day, by sales volume or preset par levels
Detailed Purchasing
» Identify price increases and add additional pak sizes all from one window
» Convert orders to invoices in seconds
Event Management
» Plan and cost out all your banquet, buffet and catering events
» Calculate the price per person based on selling price, cover price or even cost percentage
Comprehensive Reporting
» Over 70 detailed reports including comparison of actual vs theoretical usage.
» Analyze the profitability and popularity of all items on your menu
Systems Integration
» Import information from virtually all Point-of-Sale (POS) systems and even export to popular accounting systems
Call us today at 1-888-798-5555 to order OC Premier and TAKE CONTROL with OPTIMUM CONTROL.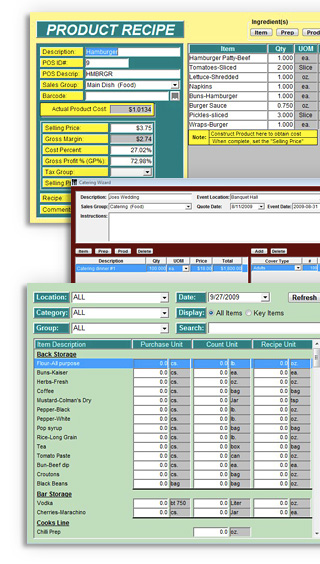 What's included in the price?
Optimum Control Premier Edition for 3 Workstations
5 Revenue Centers
Transfer Module
OC Network Server Software
Total Savings: $1295.00
We initially purchased a competing inventory software but after encountering several issues installing and integrating with our POS System (Squirrel) and Accounting Software (Quickbooks), we decided to switch to Optimum Control Premier. This software integrates easily with both our POS System and Quickbooks. Additionally there is a much wider range of compatible mobile products to choose from. Overall, we're glad we made the switch; it's been a great investment."
• Retail Sales Module/ Commissary
Can OC Premier work on a network?
Yes, the OC Premier database is designed to work on your network server and accessed by client workstations. By default OC Premier comes with 3 user licenses.
What if I don't have a network, what then?
If you have a peer to peer network, OC Premier may be installed depending on your configuration. Note: If you need all the functions of OC Premier on one computer you can install and run as a single workstation.
Call for pricing
as this configuration is less expensive.
Can I have more than 3 users on a network?
Yes, additional users are available for a small licensing fee per additional workstation.
You said that OC Premier can work with multiple revenue centers, what is a Revenue Center and how many can we use?
A Revenue Center is a distinct costing /profit center in your operation that you can track independently. Each revenue center could have its own separate inventory to which actual versus theoretical usages will be reported. For example, you may have a bar and want to track the liquor inventory, the restaurant for food inventory, catering and banquet inventory and even also track gift shop stock if you wish. OC Premier comes by default licensed for 5 revenue centers, for a small fee you can add revenue centers.
I have a main stock area and transfer goods from there to the revenue centers, can each manager requisition stock from main stock area?
Yes, each area can requisition stock from main areas. Each requisition will be approved and then fulfilled as needed.
Can I have different storage location in each revenue center?
Yes, you can have as many counting (storage) locations as you wish.
Can I run my reports consolidated for all centers?
Yes, many reports can be run consolidated or run individually
Can I have a different inventory cycle for each revenue center?
Yes, each revenue center can have its own opening and closing dates for inventory.
I have a different POS system in the bar and restaurant than in the gift shop, can I still import to each revenue center using different POS?
Yes, you can configure each revenue center for a different POS format.
With your purchase of Optimum Control you will receive 1 year of technical support free.

After the first year you can either upgrade to the next version of Optimum Control that is available or you can remain on the same version but your technical support contract will expiry.